ma̱x
[ma̱x]
transitive verb
.
put
Ma̱xdu k'üülda g̱a̱nt'miis.
I put one pencil away.
Dawila ḵ'ala mag̱ada da lax t'aam ḵ'a'at,
Then he took them up to the Lake of the Ḵ'a'at (cane),
'niit wil ḵ'ala mag̱at, 'ni'nii wilt dzo'nt.
this is where he put them, that's where he had them live.
xłm dakła looba gwa'a da dit lip lumag̱it da dit dzaba gik k'üül.
he tied it around this stone and put it over himself, and then made another one.
dit lip lu mag̱at das 'niit, dawilat di xswooxsgit.
and put one around himself, and then he dove with him.
adat wil lu mag̱a na sami nakst.
and he put her body in it.
Ada wilt 'li mag̱at a ts'üwaan 'wii sa'mnt
He put it on the topmost branch of a big spruce tree
adat lu mag̱at a gilaansga xsooga dm saxs huut.
and she put it in the stern of her escape canoe.
Wayi, waals Niisloos 'yag̱a ma̱xditga 'wii xsoo,
And Nislos did as his wife asked, he put down his large canoe
ada 'nii mi dm wil lu ma̱xdu
that is where you must lay me to rest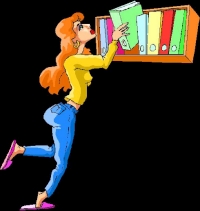 Image from Print Artist Platinum software, version 23, Bonus Graphics CD.